VARIABLE SPEED CONTROL PACKAGES SPECIALLY DESIGNED FOR UNION GRADUATE & JUBILEE LATHES
For any woodturning or bowl turning operation, there is a cutting speed that is just right, and with variations in the diameter of the work piece, the spindle speed too has to be continuously adjusted as the work progresses.
With full electronic variable speed control from a variable speed drive or inverter, you can adjust the spindle speed 'on the run' without having to stop the machine, and are able adjust the speed as the diameter changes to give no tool chatter and thus achieve that perfect surface finish.
Our variable speed drives from Mitsubishi Electric comply with both CE and UL approvals, and are available with optional RFI 'footprint' filter units to comply with the 1992/5 EMC Regulations.
We have variable speed control packages available ranging from basic inverter packages to completely pre-wired systems with new dual-voltage 3ph motor.
Inverter and Motor packages suitable for the Union Graduate & Jubilee.
Our Variable speed control packages for the Union Graduate lathe comprise a High Performance Digital Inverter drive, New three phase dual-voltage motor, and purpose made Pushbutton Remote to convert your Union Graduate Woodturning lathe to super smooth Variable Speed Control.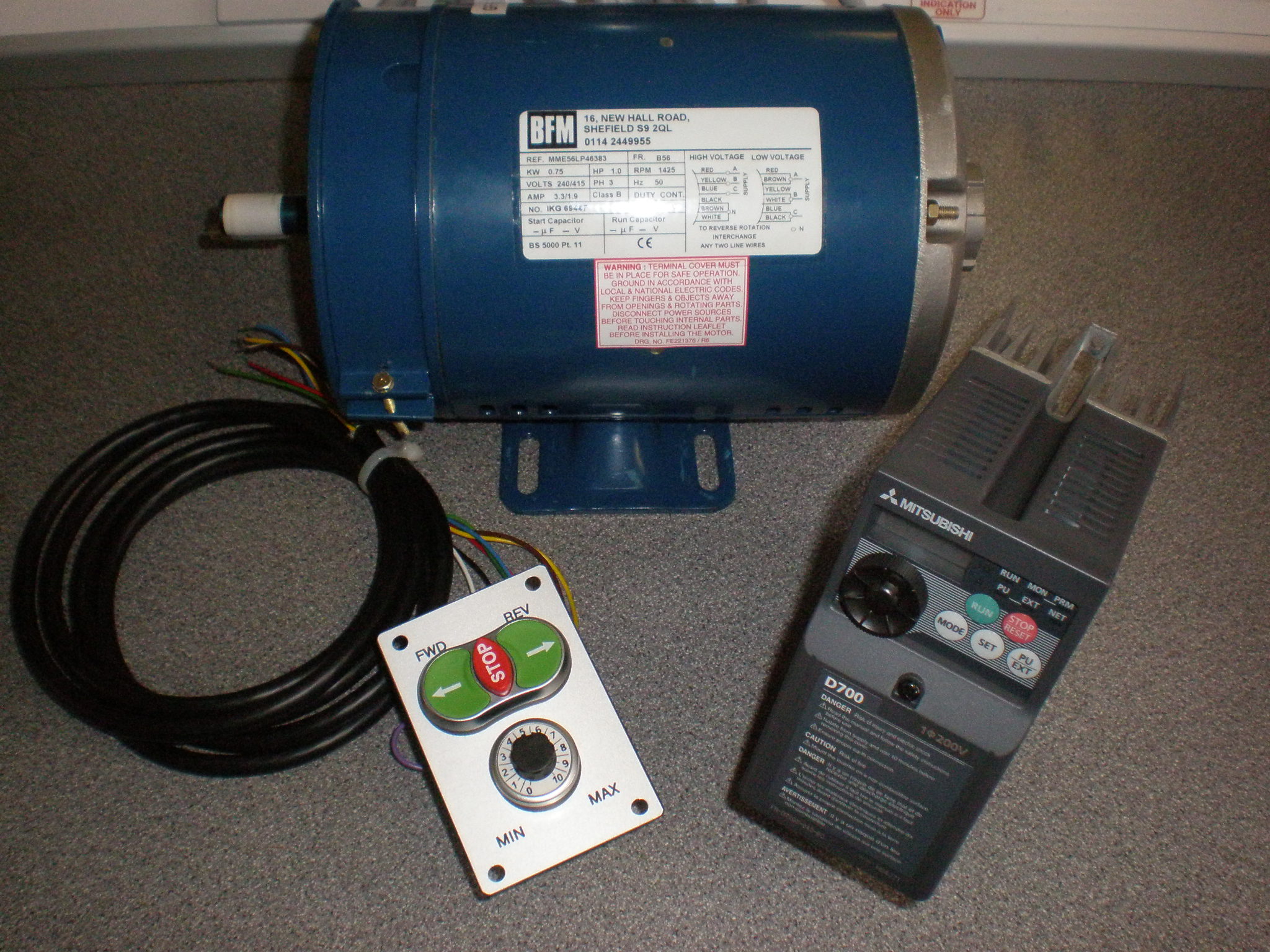 A comprehensive lathe speed control package, including; Inverter, Pushbutton Remote and Motor to suit the Union Graduate wood working lathe, complete with Inverter users manual and wiring instructions.

1.0HP 1-Phase to 3-Phase Digital Inverter drive - preprogrammed up for you and ready to go!!

Smooth variable speed control across the whole entire speed range, giving chatter free machining and an excellent surface finish.

Quiet operation, and no vibration.

High Torque even down to the lowest speed!

Powered from your domestic 230V AC single-phase mains supply.

Automatically maintains shaft speed once set, compensating for cutting load.

COMPLETE electronic overload and thermal overload motor protection.

Manufactured by ourselves here in the UK in compliance with our ISO9001 Quality system.

CE and RoSH Compliant.
Inverter Drive Specifications:
Mitsubishi Electric D700 High Performance Inverter

Fully CE marked, UL / NEMA approved and RoSH Compliant.

Rated power: 750watts (1 Horse-power) 4.2Amps

Speed range: 0 - 1800 rev/min at the motor spindle.

Input Supply: 230V AC single phase supply 50/60Hz.

Motor Output: 0-230V AC, three phase.

Pre-programmed with our own proven parameter settings for use with this machine.
New purpose built Graduate Pushbutton remote features: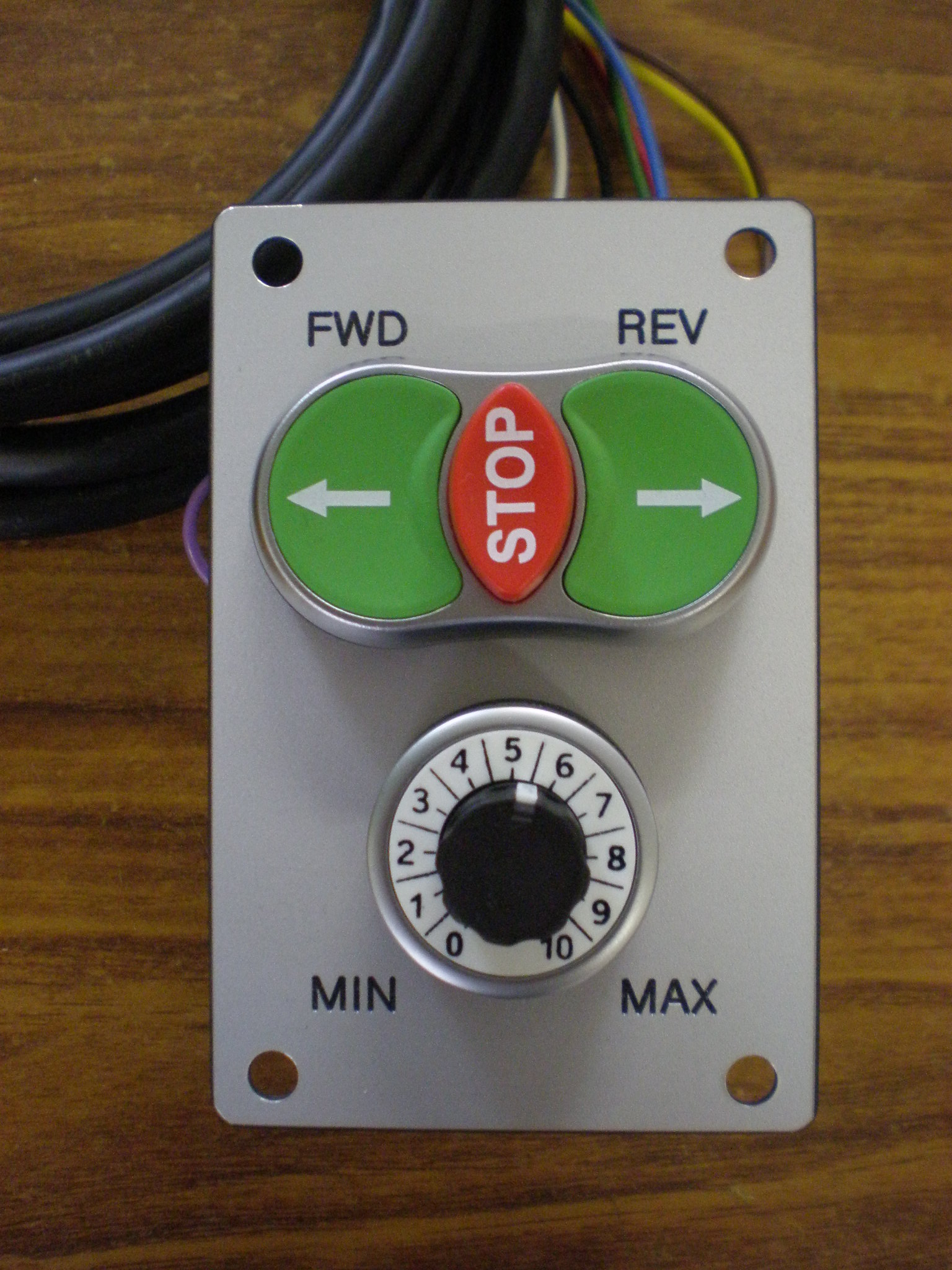 Industrial grade FORWARD, STOP, REVERSE pushbuttons

Variable speed adjustment potentiometer.

Engraved aluminium fascia

Fitted with 3metres of control cable for you to feed through the machine pedestal out to the Inverter drive.

Supplied with connection diagram.
Motor Specifications:
High Torque three phase induction motor

Direct fitting replacement for factory fitted Union Graduate motor.

Same shaft diameter as factory fitted motor.

Rated power: 750watts (1 Horse-power)

Other motors frames and styles, including METRIC, and higher power motor upgrades are available.
Carriage to anywhere in the UK mainland is £18 (inc VAT).
We can also supply our Single-to-3-Phase Digital Inverter drives on their own for you to use with your own existing Three phase motors. Your own motor must be dual voltage three phase with provision for connecting it in to DELTA for 220V 3-Phase operation. See INVERTERS page.
Even if your existing Union Graduate three phase motor is not dual voltage and is permenantly wired in the 415V STAR configuration, then we offer the service of converting the motor to dual voltage for you if you can get the motor to us. Alternatively we can arrange for a courier to collect and deliver back to you at cost.
CL750 Pre-wired systems for the Union Graduate, Myford ML8 (under-drive) and Mystro Lathes.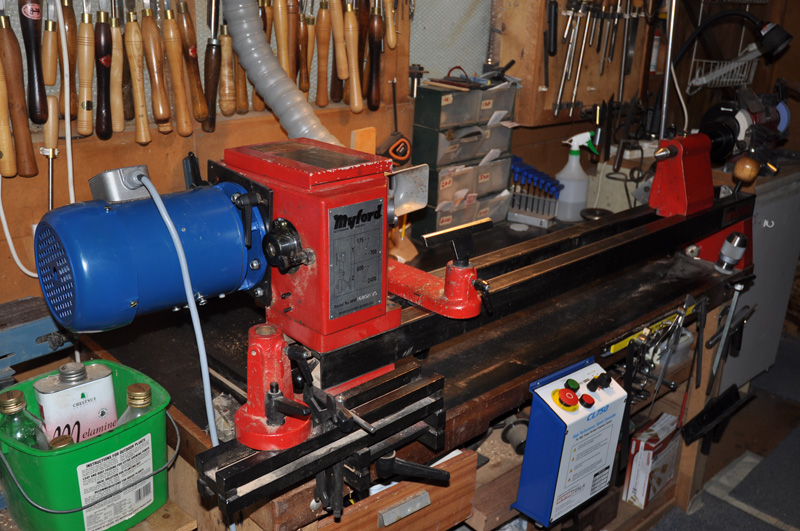 Our CL70 Lathe speed controllers are a completely pre-wired speed controller and come supplied with a new 220V AC three phase induction motor, which will fit straight onto the Union Graduate or Myford ML8 machines! We can also supply the correct face mounted versions of this motor for direct fitting to the later Myford Mystro wood working lathes. With the inverter drive this gives a possible motor speed range of 175 - 1800 RPM.
The CL series lathe speed controllers are supplied with a 1.5 metre mains cable, fitted with a moulded 13A mains plug, and the motors come supplied pre-wired with 1.5 metre lead that plugs straight into the bottom of the inverter box. Installation typically takes only fifteen to twenty minutes. There is no wiring to be done, no guess work and the speed controllers are ready to go!!!
No Surcharge for Credit or Debit Card Payments!