PRE-WIRED LATHE SPEED CONTROL PACKAGES.
SUITABLE FOR MYFORD SERIES-7 (ML7, SUPER 7, ML10 / SPEED 10) ALSO RAGLAN & BOXFORD LATHES
NEW!!! - OUR PRE-WIRED LATHE SPEED CONTROLLERS NOW CARRY A 10-YEAR WARRANTY*
Our CL Series lathe speed controllers are completely pre-wired lathe/ milling machine speed control systems designed around the highly reliable Mitsubishi Electric range of inverter drives, and they are supplied with a new high performance motor. They are available in a range of sizes starting from 0.5HP to 3.0HP.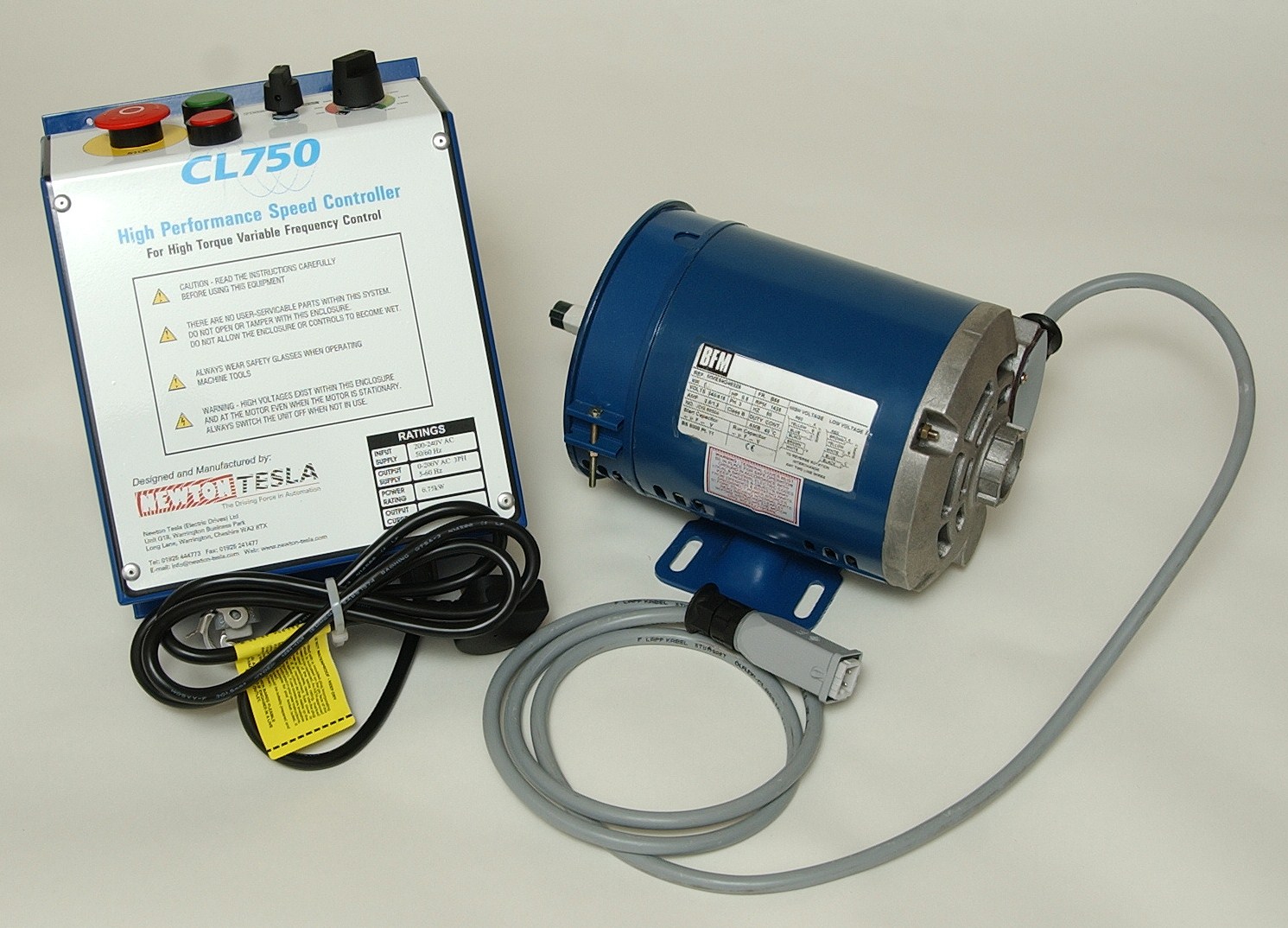 So far over 2000 units have been supplied "Worldwide" to Factories, Model engineers, Wood Turners, Small businesses, Universities and Colleges. It's never been a better time to update your lathe to smooth variable speed control
Our CL-Series lathe speed controllers are designed as a direct fit solution for the following machines;
MYFORD Series-7 machines including; ML7, Super 7, Myford Speed 10 / Diamond 10, 254
Southbend (round bed) lathes.
Dore Westbury Milling Machines.
WARCO machines - including WMT300/ WMT500, BV-20, 918
CLARKE CL1500 / CHESTER "Multi-Purpose Lathes"
Tom Senior & Denford Milling Machines......and many other machine tool applications!
Our CL Series lathe speed controllers have a full compliment of industry grade controls located on the top face of the control panel, comprising:
START & STOP Pushbuttons
Emergency Stop Pushbutton (latching type)
Speed Potentiometer adjustment (175 - 1800 RPM motor speed)
FORWARD / REVERSE Direction selector
RUN / JOG facility
The speed controllers come supplied with a new 220V AC three phase induction motor, which (in the case of the Myford ML7/ Super 7 & Raglan) will fit straight onto the motor bedplate! Together with the inverter drive this gives a possible motor speed range of 175 - 1800 RPM.
The CL series lathe speed controllers are supplied with a 1.5 metre mains cable, fitted with a moulded 13A mains plug, and the motors come supplied pre-wired with 1.5 metre lead that plugs straight into the bottom of the inverter box. Installation typically takes only fifteen to twenty minutes.
There is no wiring to be done, no guess work and the speed controllers are ready to go!!!
No Surcharge for Credit or Debit card payments.
ONLINE ORDERING: CLICK HERE http://www.newton-tesla.co.uk/index.php?route=product/category&path=74_143
*10-Year Warranty - Terms & Conditions apply.
The 10-Year Warranty applies to our "Pre-wired" lathe speed controllers, CL400,CL750,CL1500 and CL2200 only, and covers the Mitsubishi Electric D720 Digital Inverter contained therein. The 10-Year Warranty does not apply to the electric motor. The Ten year warranty is for the original purchaser only using the equipment for non commercial purposes within the UK and is not transferable to any one else. The purchaser must complete and return the enclosed registration form at the time of purchase. The 10-Year Warranty does not cover mis-use or mis-application of our CL Lathe Speed Controller(s) beyond the scope of their use as a lathe or milling machine speed control and does not cover failure due to flood, fire, electrical power disturbances or adverse environmental conditions. User controls such as speed adjustment potentiometer, forward and reverse switches and buttons are not included. The Year warranty offer will run from 1st July 2011 and until further notice. If one of our units is suspected to have failed it must be returned to our works at the purchasers own expense, we will promptly examin the unit and determine the cause of the failure and notify the customer. If the inverter has failed within the terms of the extended warranty it will be replaced free of charge but we will charge the customer for the return postage and packing. Failure of the unit for any other reason for example a worn out switch or user controls etc, will be chargeable and we will advise the customer of the cost first. Motors supplied as part of a CL400/750/1500/2200 system will be subject to a three year warranty against electrical and mechanical defects at the time of manufacture but excluding bearing noise, bearing wear or bearing failure.